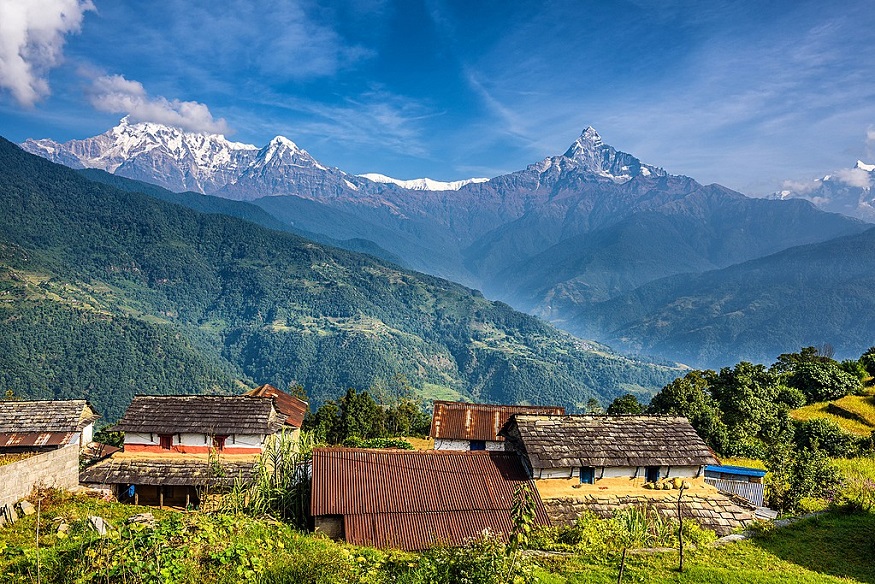 Top 6 Reasons Why You Need To Travel Nepal | Visit Nepal 2020
When it comes to travelling, people often choose those countries or places where they can find numerous things to explore. If you are thinking of travelling, here are a few reasons to make you more clear on your selection of country Nepal for travelling.
Sagarmatha National Park
The word 'Sagarmatha' is the Nepali name given to Mount Everest. It is one of the most visited national parks in Nepal. It falls under the route of Everest Base Camp Trek, Island Peak, Gokyo Lake trek and High Pass Trek. You will get a chance to enjoy the panoramic view of the tallest mountain in the world named Everest along with other high peaks. It has amazing unique flora and fauna.
Sagarmatha National Park is the highest park in Nepal which covers 1,148 square kilometres. It is at an elevation of 6,000 metres. On the east side of the national park, you can also see Makalu Barun National Park whereas Dudh Koshi river valley towards the west where you will find turquoise coloured Gokyo Lakes. The landscape of National park varies as you move from lower to uppermost regions. The lower zones have a lush green forest. It has more than 118 species of birds and rare mammals such as Red panda, Snow leopard, etc. The area is the inhabitant of Sherpa people. You can see yaks as transport goods. As you walk towards the north, you will observe dwarf-sized shrubs and furthermore walk will lead to mosses and lichens. Other than plants and animals, the major attractions of this park are the seven peaks: Pumori, Cho-Oyu, Amadablam, Lhotse, Thamserku, Nuptse and Everest. All the peaks are above 6,000 metres.
Volunteering Platforms
Volunteering platforms are the ones that provide you with an opportunity to serve people globally. Additionally, you will be making global friends, learning different cultures, expanding your vision, gaining different ideas, getting socialised and lot more.
To be honest: When you are travelling to Nepal, you might also face a challenge regarding people, culture, language, climates and a lot more stuff. And, this does not only happen here in Nepal. However, at the end of the day, you will learn how to interact with people, understand their culture, meet incredible people or maybe even make lifelong friends to gossip and chit-chat. This learning is really helpful when you solo travel because you have to do all the stuff on your own.
No matter which volunteering sectors you choose such as child care, teaching, empowering girls of remote areas, medical internships, etc, just remember little drops of water can make seas and oceans. Nepal faced a devastating earthquake which destroyed many precious cultural heritages as well as ruined the life of countless people. Your help as a volunteer can contribute a lot in their life. It will be a new learning experience for you as well. Nepal is one of the most budget-friendly destinations to travel and it has amazing trekking routes. When you are travelling to Nepal for volunteering purposes, make sure to go for short hikes or trekking.
Cultural Diversity
Nepal has a huge cultural diversity.  You can find it as a place of the multi-racial, the multilingual and multi ethic country that surprises you in every step with various cultures, languages, traditions, festivals and cuisines. The different artworks such as sculptures, monuments, temples, carving will speak to you about the culture in Nepal. You will also notice a huge influence of the Buddhist side by side you can find Kiratism, Islam, Hindus and Christianity.
The best part of cultural diversity are:
Having conversations on different practices from the different time frame and the belief of the people.
See animals such as dogs and cows worshipped during Tihar
Enjoy major festival of various ethinic groups
Food cuisines differs according to the cultre
Different language slangs
Chitwan National Park
When it comes to travel destinations in Nepal, Chitwan is the most popular place, especially among nature lovers. It is enlisted by UNESCO as a World Heritage Site. The major attraction you can find in Chitwan is Chitwan National Park. You will get to experience wildlife as well as explore wild corners and forests. There are two entrances to Chitwan National Park: Sauraha from the east, Meghauli village from the west
Chitwan National Park, the first park in Nepal, covers 952.63 square kilometres. Previously, it used to be a hunting site for the Royal Family of Nepal. At present, it is a preserved park for flora and fauna. The park has more than 650 species of wildlife, 544 species of birds, 68 species of mammals, 126 species of fish, and 17 species of snakes. You can enjoy the melodic sounds of twitters and chirps of birds on the walk. The park is popular for one-horned Rhino, Gharial and Royal Bengal Tiger.
The park attracts a large number of people, especially those who are searching for family tours and Wildlife tours. You can enjoy Elephant Safari and Jungle Safari. The Elephant ride lasts for 1 to 1.5 hours. You can go on the jungle trek as well.  You can canoe in the Raptiriver. Also, you can visit the Elephant Breeding Center in Chitwan National Park. If you like a rustic tour to elephant breeding centre, then you can go for ox-cart rides.
Nepalese Cuisine
 Nepal is popular for its Nepalese Cuisine like Mo: Mo Mania that is to say a Tibetan style dumpling filled with meat, vegetable or chocolates.  Dal-Bhat, a traditional dish, for the hearty appetite. You can enjoy Chitlang cheese and homemade wines. To name a few: Thakali Cuisine, Newari dish in the valley, Terai cuisine and other varieties of cuisines based on ethnicity and climate.
Best Souvenir to carry back home
Nepal is famous for handicrafts and artworks. Nepal offers you unique art of mandala paintings, sculptures, pottery works, etc that are interesting to carry back home. It will reflect Nepalese culture and remind you about your memorable moments spent during your visit to Nepal.
Visit Nepal 2020 is the official campaign that the Nepal government and Nepal Tourism Board is running for safe travel in the nation.